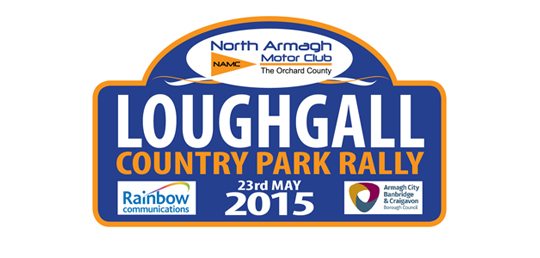 For immediate release
Loughgall Country Park Set to Host Rainbow Communications Loughgall Stages Rally!
Competitors are gearing up for this weekend's Rainbow Communications Loughgall Stages Rally, held within the beautiful confines of Loughgall County Park in County Armagh.
Over 50 entries have been received for the North Armagh Motor Club organised event which will take place this Saturday 23 May. The two-wheel-drive only rally has attracted a host of top competitors including 2013 and 2014 winner, Keith White, who will lead the field off the start line on Saturday morning.
White will be targeting a hat-trick of wins at the tricky, tree-lined venue. Navigated by Damian McCann, who partnered him to success last year, the Mark 1 Escort crew will be aiming to be inch-perfect once again during the course of the event.
Such is the nature of the rally, even the smallest of mistakes can have massive consequences in a competitor's bid for victory. With just six stages and a total of approximately 20 stage miles, there is little room for error in such a short, sharp and demanding event.
White will have a host of top-line competitors biting at his heels, including Jim McKenna, who finished second overall in 2013. Davy Armstrong is another regular visitor to the podium, having finished third overall on his last two attempts, while Martin Toner, Trevor Wilson and Damian Toner will all be in the mix.
The action kicks off at 9.30am on Saturday morning when Councillor Darryn Causby, the Lord Mayor of Armagh City, Banbridge and Craigavon Borough, flags the first car away from the start.
Spectators are welcome and if you would like to help out on the event, organisers are still looking for volunteer marshals. If you want to become involved, contact Eddie Martin on 07727 960594.
ENDS.
Regards,
Jonathan
MacDonald
MediaJAM
Communications
Tel. +44 (0)7989 283055
Filed Under: Event news • NAMC