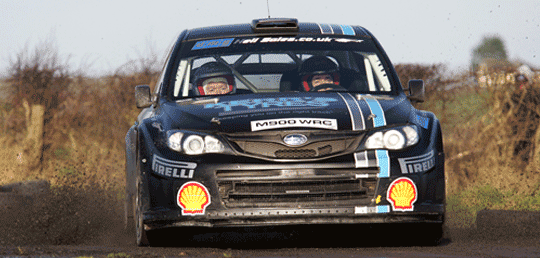 (Image: Graham Curry)
Regulations and entry forms are now available for round one of the 2013 Carryduff Forklift MSA ANICC Northern Ireland Stage Rally Championship incorporating the second round of the McGrady Insurance Junior 1000 Rally Challenge Ireland, the Eurocables (Belfast) Stages Rally.
The event, which takes place on Saturday 16th February, is sponsored by Eurocables (Belfast) Limited, and will feature six stages based within the confines of Co.Down's Kirkistown Race Circuit.
DOWNLOAD REGULATIONS & ENTRY FORM
The secretary to whom all entries must be sent by post is:
Charlie Deering, 12 Sheridan Green, Portadown, Co.Armagh, BT63 5BN.
Email: cdeering@namcc.com
Tel: 028 3833 0194
Mob: 07801 670100
between 7.00pm and 10.00pm weekdays & 1.00pm and 6.00pm weekends ONLY.
Filed Under: Event news • NAMC