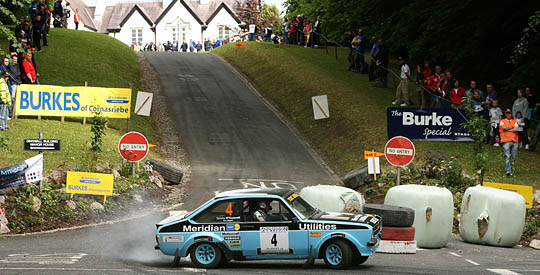 Historic Results l Modified Results l Autotest Results
(Image: William Neill) Thousands of pounds have been raised for Cancer Research UK (Northern Ireland) and other Lions charities after Saturday's Burkes of Cornascriebe New Holland Agriculture Loughgall Festival of Motorsport!
The event, which was based in Loughgall Country Park and jointly organised by North Armagh Motor Club Ltd and Armagh Lions Club, attracted thousands of spectators to the venue for the motorsport extravaganza.
Featuring the Historic Rally Car Challenge, Apple Blossom Autotest, static classic and historic car displays, as well as an autojumble, the event provided plenty of entertainment for spectators who flocked to the beautiful venue.
"It was fantastic to see so many people in Loughgall Country Park helping to raise funds for some very worthwhile charities," said Malcolm Dawson of the Armagh Lions Club organising committee. "Everyone who attended played their part in raising money, at the same time as enjoying a great day out for all the family. Thank you to everyone who helped and we're already looking forward to another successful Festival in 2011."
Mayor of Armagh City and District Council, Councillor Jim Speers, flagged the Historic Rally Car Challenge competitors away from the start ramp. More than 60 crews tackled eight stages through the Loughgall Country Park lanes, which remained dry throughout the course of the day.
In the historic category, it was Tommy O'Connell who headed crews home in his Ford Escort RS1800. Navigated by Sean Magee, the result marked an early 21st birthday present for the Dungiven driver, in what was his maiden rally victory.
"I'm over the moon!" O'Connell said afterwards. "It was very close between myself and Keith McIvor. Thankfully it stayed dry, or I reckon it would have been even closer!"
Two stages from home, less than seven seconds separated O'Connell and McIvor. Sadly for challenger McIvor, his Porsche 911 broke its differential during the penultimate stage, slamming the brakes on his rally.
Just 12 months earlier, it was O'Connell's father, Seamus, who won the event. But this year it was O'Connell junior who was overjoyed when he lifted the winning trophy. He finished ahead of the Mini Cooper S belonging to Colin McDowell and Ian Evans, with Paul Cartmill and Adrian Park third in their Sunbeam.
In the modified category, Wesley Patterson and Martin McGarrity again proved to be unbeatable in their Mark 2 Escort. The crew have dominated the event in recent years so there were few surprises when they emerged victorious once again.
Patterson arrived home almost 36 seconds clear of second placed Mervyn Wedlock and Damien McCabe, with Michael Conlon and Aaron McQuaid third. Such was the domination of the Escort crews the only one competitor inside the top 15 overall was not driving an Escort!
The Festival also featured the Apple Blossom Autotest, which was organised in conjunction with MG Car Club Ltd (Ulster). A number of leading autotesters displayed their skills, with Robert Dickson emerging as the winner in his Mini Special.
Dickson performed some inch perfect driving manoeuvres to take the victory from Mark King's Vauxhall Nova, while Noel Cochrane was third in his Ford Special.
"Thanks to everyone who attended to make it another successful day for the charities," said Historic Rally Car Challenge Clerk of the Course, William Fullerton. "Thanks must also go to Burkes of Cornascriebe New Holland Agriculture who were title sponsors for the second year, as well as many other associate sponsors."
There were numerous rally winners and autotest winners, but the real Festival of Motorsport victors were Cancer Research UK (Northern Ireland) and other charities. Monies are still being counted but it is expected that a substantial amount has been raised once again.
With another successful event behind them, Armagh Lions Club and North Armagh Motor Club Ltd are already making plans for 2011. More details will be announced in due course on www.namcc.com.
ENDS.
Historic Rally Car Challenge – top 5 overall
1 Tommy O'Connell/Sean Magee (Ford Escort RS1800) 34m15.8s
2 Colin McDowell/Ian Evans (Mini Cooper S) 36m23.1s
3 Paul Cartmill/Adrian Park (Talbot Sunbeam Ti) 37m00.8s
4 John Hughes/Mark Daly (Ford Escort Mk I) 37m06.0s
5 John Byrne/Keith Byrne (Talbot Sunbeam GLS) 37m11.8s
Modified category – top 5 overall
1 Wesley Patterson/Martin McGarrity (Ford Escort Mk II RS) 31m32.2s
2 Mervyn Wedlock/Damien McCabe (Ford Escort) 32m08.1s
3 Michael Conlon/Aaron McQuaid (Ford Escort) 32m09.2s
4 Martin Teggart/Russell Harold (Ford Escort) 32m29.5s
5 James Kennedy/Rodney Torrington (Ford Escort Mk II) 32m43.1s
Apple Blossom Autotest – top 5 overall
1 Robert Dickson (Mini Special) 542.5
2 Mark King (Vauxhall Nova) 594.9
3 Noel Cochrane (Ford Special) 612.1
4 Richard Allen (Vauxhall Corsa) 616.5
5 Gareth Dillon (Sylva Stryker) 618.7
Historic Results l Modified Results l Autotest Results
Filed Under: Event news • NAMC