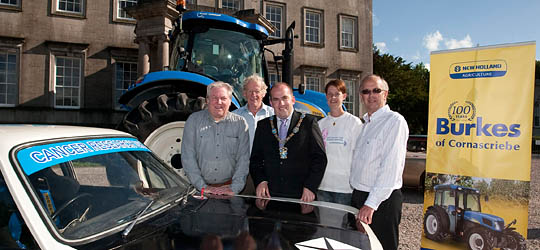 DOWNLOAD: Full entry list
DOWNLOAD: Final Instructions
The leading entries for this Saturday's Burkes of Cornascriebe New Holland Agriculture Loughgall Festival of Motorsport, which is jointly organised by North Armagh Motor Club Ltd and Armagh Lions Club, have been announced at Armagh Council Offices.
The event, which is in aid of Cancer Research UK (Northern Ireland) and other Lions charities, has received another stunning entry for the Historic Rally Car Challenge and Apple Blossom Autotest. The Festival will also feature a large array of static historic and classic car displays, as well as an autojumble.
Armagh Lions Club member, Malcolm Dawson, said: "The Club is very grateful to all of the event sponsors but in particular North Armagh Motor Club. Without their support and expertise over the years, we would not have been able to support the many good causes that we have."
Based within the beautiful surroundings of Loughgall Country Park this Saturday 3 July, a wide range of machinery has entered the Historic Rally Car Challenge. From Porsches to Escorts, as well as Sunbeams, Minis, Kadetts and Anglias, this weekend's spectacular will provide a real blast to the past!
"I'm delighted to once again be involved with this year's event," said event sponsor Harry Burke, director of Burkes of Cornascriebe. "The classic car show, Apple Blossom autotest and high speed historic rally cars from years gone by will be a fantastic spectacle."
Entries in the Historic Rally Car Challenge include Keith McIvor in his Porsche 911. He will lead the field away from the start ramp, while Alan Jardine, who briefly led the 2009 event, starts with number two on his doors.
John Keatley, another competitor in a Porsche 911, is next in line ahead of Tommy O'Connell. O'Connell finished third last year behind his father, Seamus, and second placed Dessie McCartney. Neither of two drivers have entered the 2010 event, leaving O'Connell, who only started rallying in 2009, with high hopes of an even better finish.
The modified category has an equally impressive line-up with last year's winner, Wesley Patterson, topping the entry in his Mark 2 Escort ahead of Mervyn Wedlock. They will face stiff opposition from the likes of James Kennedy, Martin Teggart and Michael Conlon.
Almost 20 entries have been received for the Apple Blossom Autotest, which is being assisted by MG Car Club Ltd (Ulster). Competitors include Robert Dickson in his Mini Special, Trevor Faulkner (Caterham S3), David Jenkins (Beach Buggy) as well as Adam and Wallace McKee in their Chevette.
"It's great to have the support from an enthusiastic Armagh City and District Council as well as Burkes of Cornascriebe and New Holland Agriculture," Clerk of the Course William Fullerton said. "Working with Armagh Lions Club for the fourth year in a row has been a pleasure, and we're looking forward to a safe and enjoyable day."
Gates open at 8.30am and the admission fee of £10 includes free car parking and use of the park and ride system, while accompanied under-12s can enter free of charge. The Historic Rally Car Challenge will start at 9.50am and all proceedings will be finished by 5.30pm, when prizegiving will take place in the centre arena. More details can be found online at www.namcc.com.
ENDS
Historic Rally Car Challenge – top 10 seeds
1 Keith McIvor/TBA (Porsche 911)
2 Alan Jardine/Jim McSherry (Ford Escort Mk1)
3 John Keatley/TBA (Porsche 911)
4 Tommy O'Connell/Sean Magee (Ford Escort RS1800)
5 Gary Owens/Ciaran Donnelly (Ford Escort)
6 Philip McDowell/Thomas Purdy (Ford Escort Mk1)
7 John Byrne/Keith Byrne (Talbot Sunbeam GLS)
8 Colin McDowell/Ian Evans (Mini Cooper S)
9 Rory Tougher/Harold Armour (Morris Mini Cooper S)
10 Malcolm Pedlow/Billy Regan (BMW 2002)
Modified category – top 5 seeds
22 Wesley Patterson/Martin McGarrity (Ford Escort Mk2 RS)
23 Mervyn Wedlock/Damien McCabe (Ford Escort)
24 James Kennedy/TBA (Ford Escort Mk2)
25 Martin Teggart/Terence Teggart (Ford Escort)
26 Michael Conlon/TBA (Ford Escort)
DOWNLOAD: Full entry list
DOWNLOAD: Final Instructions
Filed Under: Event news • NAMC