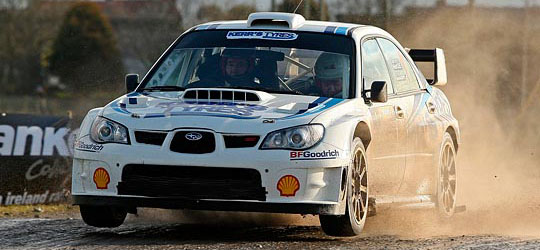 Glengormley's Derek McGarrity, the reigning Hankook MSA Northern Ireland Stage Rally Champion, opened his 2010 account with victory at the opening round of this year's series.
Organised by North Armagh Motor Club Ltd, the Pedro Pet Foods Rally featured six stages, all held within the confines of County Down's Kirkistown Race Circuit on Saturday 27 February.
And it was McGarrity, together with navigator James McKee, who immediately made his intentions clear. Fastest time over the opening stage by an impressive 16.9 seconds left the crew's rivals trailing in their dust.
That set the scene for the day as the Glengormley driver went on to secure a full complement of fastest stage times, winning the opening Hankook N.I. Championship round by almost 90 seconds.
While McGarrity raced ahead towards the overall rally spoils, a number of crews tussled for the runner-up positions. Unfortunately for number two seeds, Gary White and Dominic Carson, their challenge failed to materialise. Wheel studs sheered on their rally car at the start-line of stage one, causing a wheel to fall off!
Instead, Gary and Keith McEvoy were the surprised early second placed holders with their older specification Mitsubishi Lancer. The crew finished the opening stage 2.1 seconds clear of George Robinson and Tommy Speers, while Raymond Johnston and Fabian McAleer topped the Group N category and held fourth.
The McEvoy brothers lost some time on stage two, dropping behind both Robinson and Johnston, while a sleep deprived 21-year-old Stuart Biggerstaff also moved in front. The young Dromara man, who claimed second overall on his debut stage rally at the same venue just a few weeks earlier, was second only to event leader McGarrity over stage two.
"I didn't get much sleep the night before the rally," Biggerstaff admitted. "I was up late getting the car ready for the event but that's all part of the fun!"
Second placed George Robinson was back up to speed on stage three, and he attempted to consolidate his second placed position over the ensuing tests. While young Biggerstaff moved ahead of Raymond Johnston to take third, it looked as though Robinson held a near certain second overall.
But in rallying, nothing is ever certain. Going into the final stage, Robinson was almost 24 seconds clear of Biggerstaff when mechanical problems hit the building contractor's Subaru. He limped through the final miles but Biggerstaff pounced at the last gasp, snatching second overall from Robinson by less than five seconds!
While Robinson completed a top three of Subaru drivers, fourth overall for the Mitsubishi Lancer belonging to Raymond Johnston and Fabian McAleer was enough to seal the Sunoco Fuels Group N spoils.
Johnston fended off a challenge from Kieron Graffin and Neil Doherty, forcing the chasing crew to settle for fifth overall and second in Group N. Meanwhile, Alan Carmichael and Ivor Lamont completed the top six and finished third in Group N.
Unfortunately, none of these drivers registered for the Hankook Group N prize drive, which gives an opportunity for crews to win an expenses paid drive on an Intercontinental Rally Challenge event in 2011. The highest placed registered driver was Mark Donnelly, with Martin Collins second ahead of Stephen Wright.
In the Hankook two-wheel-drive category, Drew Stewart and Steven Park clung on to the top spot to seal the win, as well as seventh overall.
In the Montgomery Motorsport historic category, Philip Hunter and Michael Faloon sealed maximum points as well as 24th overall. They finished ahead of Andy Johnston and Philip Mills, while Harry Brown and Martin McGrath were third.
The Superdrive MSA N.I. Junior Rally Championship sees Stuart Biggerstaff take an early lead from Stephen Wright. Wright also finished the event as the leading Fiesta driver, taking the M-Sport Bonus Parts scheme prize.
Gary McEvoy heads the Autofashion.ie Group A Cup, and finally, Samantha Thom heads the Ladies Championship from Amanda Gaffney and Roisin Boyd.
Round two of the Hankook MSA Northern Ireland Stage Rally Championship will take competitors to Bishopscourt on 13 March. Based a few miles outside Downpatrick, the McGrady Insurance Stages Rally will feature six stages and more than 40 stage miles. More details can be found online at www.nirally.com.
ENDS.
Pedro Pet Foods Rally top 10 results
1 Derek McGarrity/James McKee (Impreza WRC) 27m32.5s
2 Stuart Biggerstaff/Kenny Hull (Impreza WRC) 28m55.8s
3 George Robinson/Tommy Speers (Impreza WRC) 29m00.6s
4 Raymond Johnston/Fabian McAleer (Lancer Evo 9) 29m07.0s
5 Kieron Graffin/Neil Doherty (Lancer Evo) 29m16.1s
6 Alan Carmichael/Ivor Lamont (Lancer Evo 9) 29m21.0s
7 Drew Stewart/Steven Park (Escort Mk2) 29m21.1s
8 Terry McGonigle/Damian Caldwell (Lancer Evo 9) 29m25.9s
9 Gary McEvoy/Keith McEvoy (Lancer Evo) 29m35.1s
10 Alan Burrows/Gavin Burrows (Lancer Evo 9) 29m35.4s
Filed Under: Event news • NAMC