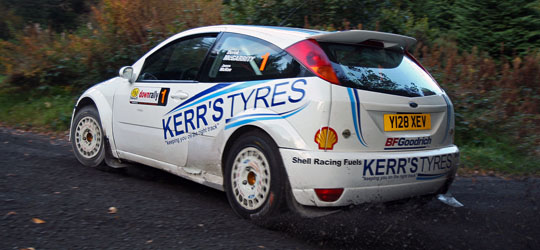 It's time to blow off those winter cobwebs for Northern Ireland's leading rally talent as round one of the 2010 Hankook MSA Northern Ireland Rally Championship, Kirkistown's Pedro Pet Foods Stages, kicks into action this Saturday!
Organised by North Armagh Motor Club Ltd, the County Down venue has attracted more than 100 crews to this weekend's event. The popular season opener, which is held on a mixture of loose and sealed surfaces, will feature six stages within the confines of the Kirkistown Race Circuit.
"We're very pleased to have secured support from Alan Atcheson of Pedro Pet Foods," said Clerk of the Course, Eric McCombe. "The event would simply not be possible without his support and assistance."
Reigning champions, Derek McGarrity and James McKee, are at the top of the entry list in their S12B specification Subaru Impreza WRC. McGarrity has a busy weekend ahead, as he intends to contest the opening round of the Irish National Championship which takes place on Sunday.
Gary White and Dominic Carson start the event at number two in their Subaru Impreza, with George Robinson and Tommy Speers also in a Subaru at number three. Young Dromara driver Stuart Biggerstaff completes a quartet of Subarus at number four with Kenny Hull calling the notes.
Biggerstaff was the sensation of the New Year Stages Rally, which was held at the same venue. He finished second overall at what was his first stage rally, enjoying a dream debut behind the wheel. Biggerstaff starts ahead of the Escort WRC belonging to Dominic McNeill and Martin Carey.
In the Sunoco Fuels Group N category, Raymond Johnston and Fabian McAleer start the event as the top seeds. They will be joined by Mark Massey and former Northern Ireland Rally Champion, Connor McCloskey.
"I'm going to start the season in a (Mitsubishi Lancer) Evo," McCloskey said, "but I may switch to a world rally car for one or two events. There are some fantastic prizes up for grabs this year thanks to Hankook so I'm really looking forward to it!"
The two-wheel-drive category has also received a strong entry which is headed by Gareth and Jonathan Nevin. They start the event at number 20, with the likes of David Armstrong, Ricky McAlonen, Terrence Teggart, Drew Stewart and Fintan McGrady all chasing the laurels.
There are a number of fantastic prizes on offer during the 2010 season. The highest placed Group N driver at the end of the year will have their entry fee, tyres and ferry costs paid to give them an opportunity to take part in a European round of the Intercontinental Rally Challenge.
There is also a Junior Prize Drive on offer which is open to competitors who are under 26 years old. An all expenses paid drive in an overseas International event with a works specification car is up for grabs. Junior competitors will be assessed by a panel of judges who will monitor all competitors on a variety of aspects during the season.
Superdrive Motorsports Centre is also supporting the Junior category with dedicated training and cash vouchers, while Sunoco Fuels is also supporting the Group N category with a drum of fuel up for grabs after each event.
Montgomery Motorsport has again pledged support for the Historic category, while Autofashion.ie is sponsoring a new Group A cup. M-Sport, the company behind the BP Ford Abu Dhabi World Rally Team, is also supporting the series through the launch of a new bonus parts scheme.
The Pedro Pet Foods Stages will get underway at approximately 9am this Saturday 27 February. Competitors will tackle six stages before the winning is crowned as the champagne finish in Kirkistown Race Circuit. More details, including a full entry list, can be found online at www.nirally.com.
ENDS.
Pedro Pet Foods Stages – top 10 entries
1 Derek McGarrity/James McKee (Impreza S12B)
2 Gary White/Dominic Carson (Impreza)
3 George Robinson/Tommy Speers (Impreza WRC)
4 Stuart Biggerstaff/Kenny Hull (Impreza WRC)
5 Dominic McNeill/Martin Carey (Escort WRC)
6 Raymond Johnston/Fabian McAleer (Lancer Evo 9)
7 Mark Massey/TBA (Lancer Evo)
8 Connor McCloskey/Francis Regan (Lancer Evo 9)
9 Brendan O'Hagan/Paul Hone (Impreza WRC)
10 Gary McEvoy/Keith McEvoy (Lancer Evo)
Filed Under: Event news • NAMC