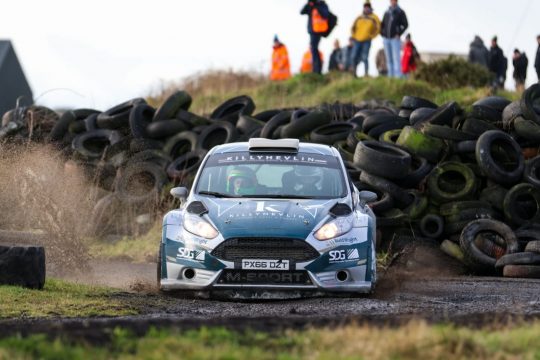 Stephen Wright and Ger Conway emerged victorious at the Eurocables Belfast Kirkistown Stages Rally after one of the closest finishes in the history of the McGrady Insurance Motorsport UK Northern Ireland Rally Championship!

The Ford Fiesta R5 powered crew held off a hard-charging Jonny Greer and Brian Crawford to win the event by just one-tenth of a second after six hard-fought stages around County Down's Kirkistown Race Circuit.

Organised by North Armagh Motor Club, the event attracted more than 70 entries from some of the country's top rally talent. With more than 20 top-spec R5 rally cars and a strong two-wheel-drive contingent, a tight battle for the spoils was expected but nobody could have predicted just how close that battle transpired to be.

Reigning champion, Jonny Greer, led the field off the start ramp but it was Stephen Wright who raised eyebrows after the damp opening stage. The two-times event winner set the pace by an impressive 5.1s while his rivals struggled with tyre choice. The gap might well have been even larger, only for Wright to be slowed by another competing car during his second lap of the track.

"We lost a few seconds behind another car," Wright explained, "so the gap could have been bigger. It's a good start but I know that Jonny (Greer) usually gets faster as the event progresses so we'll see how it goes."

Both second-placed Greer and third-placed Derek McGarrity admitted that they had selected tyres with a compound that was too hard for the conditions. After a brief spell in the service area, their respective cars were fitted with a new set of tyres and they went on the attack.

The new tyres worked a treat and Greer was fastest through stage two, almost halving Wright's lead in the process. However, Wright was determined to seal his third Kirkistown win and went back on the attack. He claimed the fastest times through stages three and four but only by one-tenth of a second from Greer on both occasions.

By this point, third-placed Derek McGarrity had started to drop back. He was 16 seconds in arrears after his efforts were thwarted by a misfire. Instead of fighting for victory, he was trying to keep a hard-charging Aaron McLaughlin and Gareth Sayers behind him.

As for event leader Wright and second-placed Greer, they both entered the final two stages in determined form. Greer was back to his stage-winning ways on stage five and took a small chunk of time out of his rival to leave the gap at 1.2s with one stage two go.

"We're already at maximum attack," Greer said after the stage "It's a bit more difficult for us because we're running in class 10 to score championship points. That means we have a bit less power. Second is enough for maximum championship points but I'd still like to win the rally."

Having less power didn't stop the Carryduff driver from trying to snatch victory from Wright's grasp and after another fastest time through the final stage, he almost turned the tables. But it wasn't quite enough. Wright had also had a strong run through the test and he managed to fend off the challenge – by one-tenth of a second!

"I can't believe it!" a delighted Wright said at the stage finish. "I did everything I could on the last stage. I'm not doing the championship this year but hopefully I'll be able to get out on a few more rounds."

Greer had to settle for second position on this occasion but he still secured a maximum championship points, placing him at the head of the McGrady Insurance N.I. Championship tables. It marked a near-perfect start to his title defence.

In the tussle for third overall, Derek McGarrity's misfiring troubles continued into the final stages. Suspected to be caused by a fuelling issue, it cost him some precious seconds and he eventually fell into the clutches of both Aaron McLaughlin and Gareth Sayers.

McLaughlin and navigator Darren Curran secured the final podium position while Sayers and Gareth Gilchrist took fourth after a day that saw them struggle with the handling of their Fiesta in the tighter corners.

McGarrity and Graham Henderson just managed to cling on to fifth overall ahead of Stuart Biggerstaff and Anthony Nestor. In his efforts to catch McGarrity, Biggerstaff claimed a couple of top three fastest stage times but had to settle for sixth, just four-tenths of a second adrift.

Joe McGonigle and Ciaran Geaney brought their Fiesta home in seventh with Jason Dickson and Shane Byrne eighth, while an unusually off-pace Darren Gass and Sam Hutchinson were ninth ahead of Michael McGarrity and Damien Garvey who completed the top 10.

Further down the order, James Leckey made a successful return to the sport after a 25-year layoff. With a Fiesta R5 hired from McKinstry Motorsport, the former Killarney Rally of the Lakes winner claimed a top 20 position and is now focussing his attention on next weekend's Samsonas Rally Fivemiletown.
2WD Category

In the two-wheel-drive category, Jason and Gareth Black brought their stunning Toyota Starlet to a well-deserved category win but it wasn't all plain sailing for the pair.

Despite using the event as a test session with multiple changes made to the car during the day, the Blacks were fastest from the outset. They set the early pace from the Escort piloted by James and Heather Kennedy, with Kyle White and Sean Topping third in their Peugeot 208.

Then it was all change on stage four. After building up a five-second lead, Black frittered it away with a spin during the test. Suddenly, it was the Kennedy husband and wife team who led the Starlet crew by 4.3s.

Black went into the final two stages with a renewed determination. He managed to reclaim a narrow advantage after stage five and cemented the category win with another strong run through the final stage.

James and Heather Kennedy claimed second on this occasion while Barry Morris and Dylan Doonan got the better of Kyle White and Sean Topping to secure third overall in their Darrian. With White in fourth, Drew Stewart and David White claimed fifth ahead of Adrian Grant and Olivia Chambers in sixth.

Next Event

Round two of the McGrady Insurance Motorsport UK Northern Ireland Rally Championship takes place next month. The Race & Rally Stages at Bishopscourt Race Circuit is scheduled for 11 March.
Results (Top 20)

1 Stephen Wright/Ger Conway (Ford Fiesta R5) 31m13.5s
2 Jonny Greer/Brian Crawford (Citroen C3 Rally2) 31m13.6s
3 Aaron McLaughlin/Darren Curran (Ford Fiesta R5) 31m44.3s
4 Gareth Sayers/Gareth Gilchrist (Ford Fiesta Rally2) 31m45.8s
5 Derek McGarrity/Graham Henderson (VW Polo GTi R5) 31m51.7s
6 Stuart Biggerstaff/Anthony Nestor (Ford Fiesta R5) 31m52.1s
7 Joe McGonigle/Ciaran Geaney (Ford Fiesta Rally2) 32m03.3s
8 Jason Dickson/Shane Byrne (Ford Fiesta R5) 32m17.3s
9 Darren Gass/Sam Hutchinson (Citroen C3 Rally2) 32m21.5s
10 Michael McGarrity/Damian Garvey (Skoda Fabia R5) 32m29.4s
11 Niall Henry/Barney Mitchell (Ford Fiesta Rally2) 32m41.1s
12 Ian Dickson/Kenny Bustard (Ford Fiesta R5) 32m42.6s
13 Darren McKelvey/Dean O'Sullivan (Ford Fiesta R5) 32m57.0s
14 Emma McKinstry/Kenny Hull (Ford Fiesta R5) 33m10.6s
15 Conor McCrossan/David Burns (Ford Fiesta Rally2) 33m12.1s
16 Chris McGurk/Mark McGeehan (Ford Fiesta R5) 33m16.2s
17 Terry Donnelly/Gareth Donnelly (Ford Fiesta R5) 33m17.4s
18 Jason Black/Gareth Black (Toyota Starlet) 33m22.7s
19 James Leckey/Stephen McAuley (Ford Fiesta R5) 33m24.3s
20 Cal McCarthy/Eric Calnan (Citroen C3 Rally2) 33m32.3s
Filed Under: NAMC