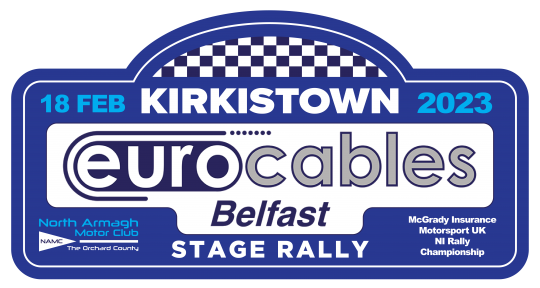 North Armagh Motor Club is pleased to confirm that EUROCABLES BELFAST has renewed its previous association with this event, and is backing the opening round of this year's McGrady Insurance Motorsport UK Northern Ireland Rally Championship.
Based at Kirkistown Race Circuit on Saturday 18 February, the Eurocables Belfast Kirkistown Stages, which is organised and promoted by North Armagh Motor Club Ltd, will attract the crème de la crème of local rally talent as they battle for the spoils at the popular County Down venue. In fact, the entry is filling fast with many of these competitors already entered, bringing the total so far, to over 80 crews.
Barry Taggart, Clerk of the Course for the event, said: "We are delighted to have the renewed support of Eurocables Belfast. We are privileged to be associated with Shane Braniff, a long-standing supporter of North Armagh Motor Club ltd., motorsport in general and rallying in particular."
Eurocables Belfast was established in 1989 by Shane Braniff and has become a leading supplier of Industrial, Network and Security Products throughout Ireland and beyond.
"I'm delighted to have the opportunity to support North Armagh Motor Club and the opening round of the N. I. Rally Championship 2023," commented Eurocables Belfast Managing Director, Shane Braniff. "There's always a lot of buzz surrounding the opening round of the championship and Kirkistown is always a well-supported event so it's great to be a part of it and meet the rally fans at the event."
Competitors will tackle six stages within the confines of Kirkistown Race Circuit, with a similar format to last year. In an effort satisfy all competitors' needs, vehicle scrutiny will be on Saturday morning only, before the rally, with the opening stage set to start at 9.15am. The finish will be around 4.30pm. The stages will be minimum 90% sealed surface.
A limited number of entries can still be made via www.rallyscore.net Regulations and future rally information will be available from the club's virtual noticeboard at www.namcc.com
If anyone would be available to marshal, contact Chief Marshal:
Caroline McGuinness on 07792 037441.
Filed Under: NAMC