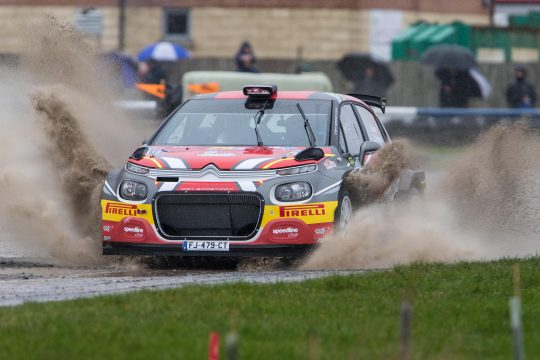 Carryduff's Jonny Greer Wins Orchard Motorsport Kirkistown Stages Rally! Carryduff's Jonny Greer and Sligo's Darragh Mullen secured victory at today's Orchard Motorsport Kirkistown Stages Rally, round one of the McGrady Insurance Motorsport UK Northern Ireland Rally Championship!

Greer snatched the lead from early leader Stephen Wright after stage two and stayed in front until the finish. Once the reigning champion was out in front, he never let go as he rallied his Citroen C3 home to secure the spoils at what was a tricky day at County Down's Kirkistown Race Circuit.

Rain in the morning left the track extremely slippery for the North Armagh Motor Club organised event. Even when the clouds dispersed to reveal blue skies during the afternoon, competitors still had to contend with a very slippery surface. Then a splash of rain before the final test dampened the track some more but Greer took it all in his stride to secure the win, getting his title defence off to the best possible start.

"We lost a bit of time on the first stage when another car stopped in front of us," Greer said. "After that, we had a clean drive and it's great to get the win!"

The fight for second position went right down to the wire between Phillip Allen and Derek McGarrity. Former champion McGarrity and navigator Graham Henderson really piled on the pressure in their Skoda Fabia R5 during the closing stages with a string of fastest times. Allen and navigator Emily Turkington were being hunted down and they tried to do everything they could to fend off the challenge over the closing miles.

Going into the final stage, it was Allen who held the upper hand by 1.1s from his rival. However, a delighted McGarrity turned the deficit on its head with another fastest time to seal the runner-up spot by just seven-tenths of a second, leaving Allen to settle for third in his Fiesta R5.

"I was trying too hard," a frustrated Allen said at the finish. "I was overdriving the car and made a few mistakes."

In fourth overall, two-time Kirkistown winner Stephen Wright was a little bit dejected after a problem on stage two. He and Ger Conway had been fastest on the opening test to lead the rally from Greer, only to get caught behind another competitor on stage two. They lost around 10 seconds as well as any chance to fight for the win.

"I took a chance and entered the last stage with wet compound tyres in the hope it might rain," Wright said, "but it wasn't to be. I was really frustrated after that second stage but hopefully we'll be back for round two at Bishopscourt."

Such was the ferocity of competition at Kirkistown that just 5.3s separated the top three overall at the end of the event, with winner Greer claiming the victory by 4.6s from McGarrity.

Outside the top four, Darren Gass and Marc McMillan were the best of the rest in their Citroen C3 R5. They survived an overshoot which thrust them over some trackside tyres on stage two. A few lurid slides later, they claimed fifth ahead of the Fiesta WRC belonging to Aaron McLaughlin and Darren Curran. 

On what was his first visit to Kirkistown, McLaughlin gradually improved as the day progressed. After a couple of early trips off the track, he claimed a number of top three stage times to seal sixth from the Fiesta piloted by Mark Massey and Alistair Wyllie.

Joseph McGonigle and Ciaran Geaney were eighth ahead of the Impreza WRC belonging to Alan and Lewis Carmichael, with young Lewis enjoying his maiden event as a navigator. Finally, Michael McGarrity and Damian Garvey completed the top 10 despite a misfire with their Fiesta R5.

Two-Wheel-Drive

In the hotly contested two-wheel-drive category, Andrew White and Paul Hughes quickly got the attention of their rivals when they went fastest out of the blocks during the morning's wet stages.

However, as the track started to dry, James and Heather Kennedy started to reel them in. The experienced husband and wife team eventually overhauled their rivals with the Kennedys taking the category spoils by just 6.8s, leaving White to settle for second.

"I wish it had stayed wet!" a delighted White said after sealing second position. "We picked the wrong tyres for the middle loop of stages but we really didn't expect to be up there fighting for the win. It was a great day!"

Jamie Grant and Jonny Chambers finished third in the category with their Starlet, taking 22nd overall in the process. They had to fix a burst brake pipe before the event had even started but survived to tell the tale.

Next event

Round two of the McGrady Insurance Motorsport UK Northern Ireland Rally Championship takes place in a couple of weeks' time at Bishopscourt Race Circuit. Based near Downpatrick, the Race and Rally Bishopscourt Stages will host another octane-fuelled event on 12 March.

For more information, including stage-by-stage reports from the Orchard Motorsport Kirkistown Stages, visit nirallychampionship.com.

Orchard Motorsport Kirkistown Stages Rally Results (Top 10)

1 Jonny Greer/Darragh Mullen (Citroen C3) 32m38.8s
2 Derek McGarrity/Graham Henderson (Skoda Fabia) +4.6s
3 Phillip Allen/Emily Turkington (Ford Fiesta) +5.3s
4 Stephen Wright/Ger Conway (Ford Fiesta) +15.3s
5 Darren Gass/Marc McMillan (Citroen C3) +17.2s
6 Aaron McLaughlin/Darren Curran (Ford Fiesta WRC) +29.2s
7 Mark Massey/Alistair Wyllie (Ford Fiesta) +37.9s
8 Joseph McGonigle/Ciaran Geaney (Ford Fiesta) 43.9s
9 Alan Carmichael/Lewis Carmichael (Subaru Impreza WRC) +1m04.6s
10 Michael McGarrity/Damian Garvey (Ford Fiesta) +1m37.3s

Full results are available from rallyscore.net.

ENDS.
 
Filed Under: NAMC