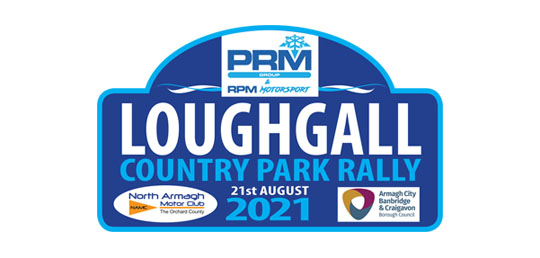 Motorsport returns to Loughgall Country Park this Saturday for round three of the McGrady Insurance Motorsport UK N.I. Rally Championship – and for the first time since March last year, spectators will be permitted to attend!
The PRM GROUP and RPM MOTORSPORT backed Loughgall Stages Rally has received a capacity entry of 100 crews that will battle for the spoils within the beautiful confines of the County Armagh park. They will tackle a total of six stages, all based in the park, providing an exciting and adrenaline-fuelled day out for spectators at the North Armagh Motor Club organised event.
It will be the first time that the rally has hosted a round of the Championship and for many of the title contenders, it will be their first visit to the potentially tricky venue. The tree-lined stages can be slippery in places and will favour those brave drivers who are fast and precise.
The Contenders
The battle for the 2021 Championship title is really beginning to heat up with just four points separating the top four crews. All of the contenders have entered Loughgall with former champions, Jonny Greer and Kirsty Riddick, starting the event with the coveted 'number one' on the doors of their Citroen C3.
Greer won the opening round of this year's series at Bishopscourt and was on course to take another win at round two until a final stage puncture dropped him down the order at Shackleton. That disappointment has left him with a two-point championship lead.
Desi and Mark Henry claimed that last gasp win at Shackleton, making up for their opening round retirement in their Hyundai i20 R5. They start Loughgall at number two and can't afford another non-finish as they bid to get their title campaign back on track.
Reigning champion, Stephen Wright, holds second in the championship battle, only two points adrift of Greer. Navigated by Liam Moynihan in his Fiesta R5, the County Monaghan driver starts at number three ahead of Josh Moffett and Andy Hayes who should be match fit in their Hyundai R5 after their fifth-placed finish at last weekend's British Championship Grampian Stages.
Derek McGarrity is the most successful driver ever to contest the Northern Ireland series. With eight championship titles to his credit, he is in the hunt for number nine but has had a challenging start to the year. Navigated by Paddy Robinson, misfiring issues with his Fiesta WRC set him back at the second event of the season but he still holds fourth in the series standings, four points adrift of the leaders.
Aaron McLaughlin and Darren Curran have perhaps been the surprise of this year's series. Two top-five finishes, including second at Shackleton, have left them third in the championship battle with their Fiesta R5. The Redcastle driver starts the Loughgall event at number seven, behind former event winners, Damian Toner and Denver Rafferty.
The Loughgall event has predominantly been a two-wheel-drive-only rally for many years and Toner is the driver who has dominated in recent times. With five consecutive victories to his name, he has intimate knowledge of the venue. He could spring a surprise in his Ford Escort MkII as he fights to stop the dominance of Barry Morris' Darrian who heads the championship's two-wheel-drive category standings after very convincing victories at the opening two rounds.
Other leading lights include Peadar Hurson (Fiesta WRC), Niall Henry (Fiesta R5) and Ian Millar (Fiesta R5) while the two-wheel-drive category includes John Bradley (Escort MkII), Adrian Hetherington (Escort MkII), James Kennedy (Escort MkII) and Marty Toner (BMW).
Timetable
The rally starts at 9.30am with all six stages held on tarmac roads within Loughgall Country Park. Admission to the event is £10 for adults (which includes a programme) while accompanied children under the age of 16 will be admitted free of charge.
Competitors please note: North Armagh Motor Club has arranged security at the event service park giving competitors the opportunity to leave their trailers and vehicles overnight.
Regular event updates will be posted throughout the day at nirallychampionship.com while live results will be available from rallyscore.net.
Top 20 Seeds
1 Jonny Greer/Kirsty Riddick (Citroen C3)
2 Desi Henry/Mark Henry (Hyundai i20 R5)
3 Stephen Wright/Liam Moynihan (Ford Fiesta R5)
4 Josh Moffett/Andy Hayes (Hyundai i20 R5)
5 Derek McGarrity/Paddy Robinson (Ford Fiesta WRC)
6 Damian Toner/Denver Rafferty (Ford Escort MkII)
7 Aaron McLaughlin/Darren Curran (Ford Fiesta)
8 Peadar Hurson/Damien Connolly (Ford Fiesta WRC)
9 Niall Henry/Barney Mitchell (Ford Fiesta)
10 Ian Millar/David Burns (Ford Fiesta R5)
11 John Bradley/Ryan Crozier (Ford Escort MkII)
12 Barry Morris/Dylan Doonan (Darrian T90)
14 Adrian Hetherington/Ronan O'Neill (Ford Escort MkII)
15 James Kennedy/Heather Kennedy (Ford Escort MkII)
16 Marty Toner/Kyle Diffin (BMW)
17 Gareth Irwin/Justin McCauley (Ford Escort)
18 Michael McGarrity/Damian Garvey (Ford Fiesta R5)
19 Sean Devine/Niall Devine (Ford Fiesta R5)
20 Peter Bennett/Joe Comerford (Skoda Fabia S2000)
Drivers' Championship Standings (After Round 2)
1 Jonny Greer 56pts
2 Stephen Wright 54pts
3 Aaron McLaughlin 53pts
4 Derek McGarrity 52pts
5 Peadar Hurson 45pts
6 Barry Morris 44pts
ENDS.
Filed Under: NAMC