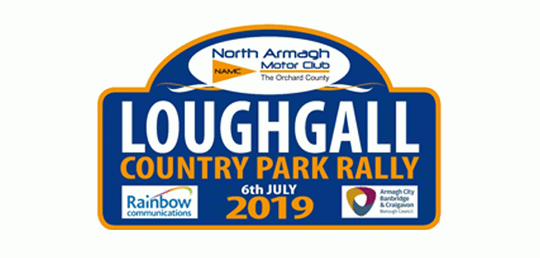 Damian Toner won the Loughgall Rally in 2015 and every year since and now goes for five in a row in his MK2 Escort and is set to headline the entry list received by North Armagh Motor Club Ltd. for this weekend's Rainbow Communications Loughgall Country Park Rally.
This is the 21st Year off the Rally at Loughgall and with still a few days to go before the entry closes the Club is expecting over 60 Cars.
Other entries hoping to spoil Damian's run will be Wesley Patterson – MK2, James Leckey – Subaru Impreza, Mervyn Wedlock – MK2, Seamus Morris – Darrian, John Devlin – MK2, James Kennedy- Mk2, and Adrian Hetherington – Mk2 among others.
Organisers North Armagh Motor Club Ltd are most grateful to event sponsor Rainbow Communications, for their generous support, Armagh City Banbridge & Craigavon Borough Council for their support and also DAERA & AFBI Government Departments for the use of their part of the splendid Loughgall Country Park, the perfect venue for this event.
Rally action begins at 9.30am and will include six Special Stages using 100% tarmac roads and will conclude at 5.00pm.
Admission to the event for adults is £10 including programme and accompanied children under the age of 16 are admitted free. Spectators can also enjoy the Historic and Classic car display adjacent to the paddock area where refreshments will also be available.
Scrutineering and administration takes place from 4.00pm on Friday 5th July at Loughgall.
We need Marshals and anyone willing to help, please contact Caroline McGuinness on 07792 037441.
For further information please contact William Fullerton at North Armagh Motor Club Ltd on 07703 219742 or Barry Taggart on 07771 892423
Filed Under: Event news • NAMC