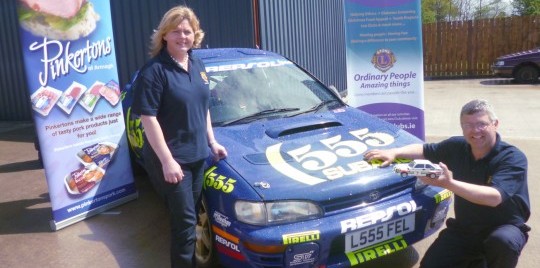 The Loughgall Festival of Motorsport 2013 will host a very special feature, when it brings together a collection of ex-Bertie Fisher rally cars, for the first time.
Every year since its inception in 2005, the Festival of Motorsport, organised by Armagh Lions Club and North Armagh Motor Club, has raised £10,000 for a specified charity. This year, it's the turn of Diabetes UK (NI).
Under the sponsorship of Pinkertons Pork Produce, and with support from Armagh City and District Council, the Festival of Motorsport 2013 returns to Loughgall Country Park on Saturday 25 May, and will host the Historic Rally Car Challenge (six all tarmac special stages), Apple Blossom Autotest (run by MG Car Club Ltd), Static Historic & Classic display, 4×4 off road power driving display (run by 4 Wheel Drive Club NI) Show & Shine competition, trade stands, kids entertainment, and lots more.
This year, there will also be an additional feature, which will see a very special collection of cars on display, having been sourced and brought together from all four  corners of Ireland. The name Bertie Fisher is synonymous with rallying and 12 years after his tragic death, the draw to see the cars in which he competed is a strong as ever.
Feature organiser Cathal Hughes, from Armagh Lions Club said; "This is a unique opportunity to see a collection of cars driven by the undisputed King of Rallying, Bertie Fisher. We've gone the length and breadth of the country to source these classic motorsport gems and are thrilled to announce some of the most famous models have confirmed attendance. By bringing these cars together we are aiming to evoke the memories of an exceptional rally-driver and true gentleman, as well as that of his son and daughter, Mark and Emma who also died on that terribly sad day, 12 years ago in January."
Ex-Fisher cars on show will include three Mark II Ford Escorts, the BMW M3, the Ford Orion, the Subaru Legacy and the one-and-only Subaru Impreza, complete with that original infamous registration plate – L555 FEL. There will also be Mark Fisher's Seat Ibiza.
Cathal concluded, "It is good to know, in spite of a tragedy, the Fisher name still brings out the crowds, particularly in the case of the Loughgall Festival of Motorsport, which is run for the benefit of others, in this case Diabetes UK (NI).
For further information telephone:
North Armagh Motor Club Secretary of Meeting Keith Somerville – 077 4595 9141
Armagh Lions Club – 028 37 788 906
or log onto:
www.namcc.com
www.facebook.com/northarmaghmotorclub
www.twitter.com/NorthArmaghMC
Photo Caption:
A special feature at Loughgall Festival of Motorsport 2013 will be a display of ex-Bertie Fisher rally cars. Pictured with the iconic Subaru Impreza complete with the infamous registration plate are Armagh Lions Cathal Hughes (right), who sourced and organised the display, and Joy Rollston (left).
Filed Under: Event news • NAMC