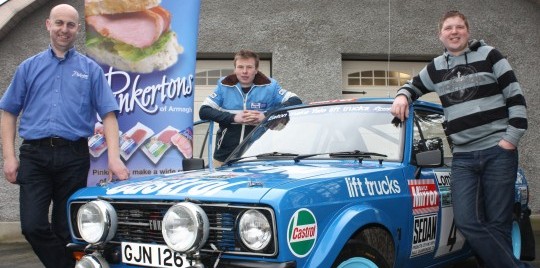 The Loughgall Festival of Motorsport will this year take place on 25th May with lots more exciting features, as well as the historic rally, autotest and static display.
Organised jointly by Armagh Lions Club and North Armagh Motor Club and run entirely for charity, the Festival of Motorsport is now in its seventh successive year. Each of those past years has enabled £10,000 to be raised and donated. Last year it was the turn of RNLI and their £10,000 paid for all the Northern Ireland crews to be fully equipped with new state-of-the-art lifejackets.
And 2013 will be no exception!
The Clubs wish to acknowledge the generous support and sponsorship from Burkes of Cornascreiebe over the past three years and are thrilled to welcome Pinkertons of Armagh as the new title sponsor and spokesperson David Gibson said, "We are pleased to announce our sponsorship of the Loughgall Festival of Motorsport 2013, and hope this is the first of many which we will be connected with. I have a great love of rallying, especially the historic cars, and feel this is a tremendous event to be associated with as it significantly promotes the local area as well as supporting Armagh Lions as, in conjunction with North Armagh Motor Club, they help raise staggering amounts of money for local charities."
Along with the regular fixtures (Historic Special Stage Rally, Apple Blossom Autotest and Historic and Classic Car Display, there will be a host of fresh features as well as some specialities which will be a real treat for rally fans.
One of these is the last ever Works Ford MK2 Escort ever built by Boreham. This majestic gem was driven by Bjorn Waldegard on 1979 RAC Rally and is still in its original state today. It looks and sounds just as it did, and this is a prime opportunity to see it back on top form. You won't be disappointed, and neither will one man from Clogher – Stephen McCombe – who bid fervently on a co-driver seat when it was auctioned at the Lions Charter Night in December.
Armagh Lions President Bob Scott stated; "I would like to formally thank Pinkertons of Armagh for their sponsorship as well as the kind donation of a co-driver seat. We are very grateful for this important piece of rally history and are honoured it will grace the fine grounds of Loughgall. Stephen will relish the experience of what it was like to be in a works car back in the hay-day of rallying. I cannot emphasise enough how much Armagh Lions appreciate the support and guidance of North Armagh Motor Club without whom this event simply could not take place.
The charity to benefit from the Festival of Motorsport 2013 is DIABETES UK- N. Ireland
For the Historic Rally Car (which includes Appendix K class historic cars) we propose to run six smooth tarmac special stages, each over three miles long and twisting through the magnificent Country Park and Manor Estate with central servicing adjacent to the arena display area, the location for the Historic and Classic Car display and Trade Stands.
The Apple Blossom Autotest will take place as usual in the farmyard area with support from MG Car Club Ltd.(Ulster) and the exciting off road performance driving display will be given by the Four Wheel Drive Club Northern Ireland ltd.
Further information and rally Regulations & Entry Form are available on the NAMC website: www.namcc.com and by contacting Secretary of Meeting:
Keith Somerville Tel. 07745 959141
General event details and Trade enquiries can be had by contacting Armagh Lions Club on 028 3778 8906
Photo Caption:
Stephen McCombe (right) from Clogher who successfully bid for a co-driver seat in the last Mark II Works Ford MK2 Escort ever built by Boreham is joined by the David Gibson (left) from Pinkertons, who are sponsoring the Loughgall Festival of Motorsport 2013. Also pictured is the car's owner Adam Clyde.
Filed Under: Event news • NAMC