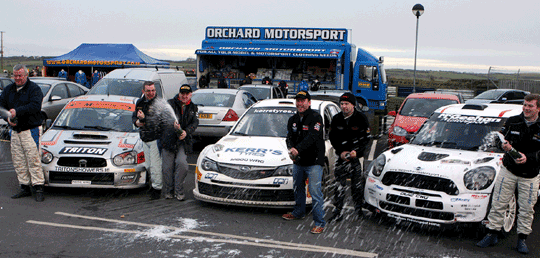 For immediate release
McGarrity's Carryduff Forklift Title Defence Off To Winning Start!
Derek McGarrity claimed victory at Saturday's Eurocables (Belfast) Stages Rally, round one of the Carryduff Forklift MSA Northern Ireland Stage Rally Championship, held at County Down's Kirkistown Race Circuit!
Navigated by Neil Doherty, McGarrity propelled his Subaru Impreza World Rally Car to the top of the timesheets after stage one and never looked back. A faultless performance saw him extend his advantage on every stage, eventually arriving home more than half a minute ahead of the rest of the pack.
Maynooth's Kevin Barrett and Sean Mullally were the best of the rest, having held a consistent second position throughout the event. Driving a slightly older specification Impreza WRC, Barrett had hoped to secure another victory at Kirkistown after his November Time Trial success but it wasn't to be on this occasion. Instead, he picked up the runner-up position as well as a healthy helping of championship points.
Derek McGeehan and Cormac McGrady secured a late entry aboard their MINI WRC and the trip to the County Down venue proved to be worthwhile. A spin on stage one dented their challenge, leaving them ninth overall after the test. But they recovered to claim third overall by the end of the day.
Emma McKinstry and Kenny Hull had held third overall for a time but they had to settle for fourth in the end after the charging MINI crew overhauled them. Emma, who celebrated her 30th birthday earlier this month, finished 9.9 seconds ahead of Peadar Hurson's Formula Karting backed Escort WRC.
Hurson had decided to make a return to the sport after a four-year layoff and although he admitted that he was a little bit rusty at the start, he soon got into the groove. By the midpoint of the event, he was setting top five times and finished with a solid result to start his championship campaign.
In the Group N category, James Laverty and Francis Regan secured a start to finish victory aboard their Subaru Impreza. They were lying as high as fourth overall during the early stages but eventually arrived home in sixth, almost 20 seconds ahead of nearest Group N rivals Kieron Graffin and Paddy Robinson. Graffin just managed to nip in front of Trevor Ferguson and David McElroy at the last gasp, finishing one-tenth of a second in front of the Impreza crew.
The McGrady Insurance 2WD category saw Keith White and Martin Carey earn another well deserved victory in their Mark 1 Escort. Simon Woodside and Steven Dowds had held an early advantage in their BMW M3 but White overhauled the crew after stage four when Woodside hit trouble.
White stayed in front until the finish, sealing the category win from David Armstrong and Paul Mulholland, with Simon Woodside and Steven Dowds third.
Drew Wylie and Fintan McGrady were the leading crew home in the Montgomery Motorsport Historic category, with Stanley Orr and Brian Cairns second ahead of Stephen and Lucy Whitford.
Finally, in the McGrady Insurance Junior 1000 Challenge, Kyle White and Alan Purdy claimed the win by 20.7 seconds from William Creighton and Andrew Bushe, with Adam and Brian Bustard third.
Round two of the Carryduff Forklift MSA Northern Ireland Stage Rally Championship takes crews to Bishopscourt on 9 March for the McGrady Insurance Bishopscourt Stages.
Ballynahinch and District Motor Club has organised an all new format for the event, which will feature 14 stages within the confines of the County Down venue. More details can be found online at www.nirally.com.
ENDS.
Eurocables (Belfast) Stages Results (top 10)
1 Derek McGarrity/Neil Doherty (Impreza WRC) 26m14.8s
2 Kevin Barrett/Sean Mullally (Impreza WRC) 26m47.2s
3 Derek McGeehan/Cormac McGrady (MINI WRC) 27m03.8s
4 Emma McKinstry/Kenny Hull (Impreza WRC) 27m17.5s
5 Peadar Hurson/Damian Connolly (Escort WRC) 27m27.4s
6 James Laverty/Francis Regan (Impreza) 27m39.0s
7 George Robinson/Tommy Speers (Lancer Evo) 27m47.8s
8 Kieron Graffin/Paddy Robinson (Lancer Evo) 27m56.6s
9 Trevor Ferguson/David McElroy (Impreza) 27m56.7s
10 Keith White/Martin Carey (Mk1 Escort) 28m13.2s
Regards,
Jonathan MacDonald
MediaJAM Communications
Tel. +44 (0)7989 283055
Filed Under: Event news • NAMC