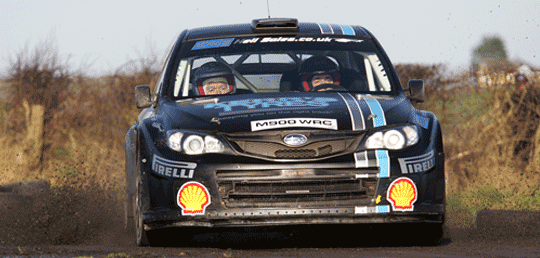 (Image: Graham Curry)
This Saturday's Eurocables (Belfast) Stages, which takes place at County Down's Kirkistown Race Circuit, has attracted more than 70 entries for the opening round of the Carryduff Forklift MSA Northern Ireland Stage Rally Championship.
Defending champion, Derek McGarrity, will head the field off the start line in his S14 specification Subaru Impreza World Rally Car. Navigated by Neil Doherty, the crew will be aiming for a repeat success at the venue, having won January's New Year Stages which was held at the same location.
In fact, McGarrity is always a hot favourite for any event at Kirkistown. He has secured countless victories at the venue over the years, and it was here that he started his successful 2012 title winning campaign with a victory last year.
At number two, County Kildare driver Kevin Barrett will be aiming to stop him in his tracks. Barrett will drive a slightly older specification Subaru Impreza WRC, but he could be one to watch. He has some experience of the Kirkistown venue, and won a rally time trial at the circuit late last year.
At number three, Peadar Hurson is an interesting addition to the rally. It will be the Newry driver's first rally in almost four years, having been out of action since the 2009 Circuit of Ireland Rally. He has hired Jim Feenan's Formula Karting Ford Escort WRC and plans to contest the opening three rounds of the Carryduff Forklift series.
"I've never gone that well on race circuits," Hurson admitted, "so the first event at Kirkistown will be a bit of a learning curve. The car is a '98 spec Escort WRC so it's never going to be near the Subarus but we'll see how we get on."
Also joining the fray will be Emma McKinstry in her Impreza World Rally Car, as well as former Northern Ireland Champion George Robinson in his Mitsubishi Lancer Evo 9. William Hamilton completes the top six seeds with his Impreza WRC.
In the Group N category, Kieron Graffin and Paddy Robinson are the top seeds in their Evo 9. They will battle it out with the Subaru belonging to Trevor Ferguson and David McElroy, not to mention the Evos belonging to Graham Ballantine, Liam McFall and Jonny Leonard.
The two-wheel-drive class has also received a bustling entry with Keith White and Martin Carey heading the field in their potent Mark 1 Escort. James and Rebecca Kennedy will provide some stiff competition in their mount, while Simon Woodside and Steven Dowds will break the Escort stranglehold in their beautiful BMW M3.
The event also hosts round two of the McGrady Insurance Junior 1000 Rally Challenge where four drivers between the ages of 14 and 16 are set to do battle on the stages. Kyle White and Alan Purdy head the order in their Peugeot 107, with William Creighton and Andrew Bushe bringing their Citroen C1 to the party. Eoghan Bogue and Liam Regan will also be in the mix, as will James Partridge and Billy Regan.
The opening stage of the rally will start shortly after 9am on Saturday. Competitors will tackle six stages, all within the confines of the Kirkistown venue.
Eurocables (Belfast) Stages Rally – top 10 seeds
1 Derek McGarrity/Neil Doherty (Impreza WRC S14)
2 Kevin Barrett/Sean Mullally (Impreza WRC)
3 Peadar Hurson/Damian Connolly (Escort WRC)
4 Emma McKinstry/TBC (Impreza WRC)
5 George Robinson/Tommy Speers (Lancer Evo 9)
6 William Hamilton/TBC (Impreza WRC)
7 Kieron Graffin/Paddy Robinson (Lancer Evo 9)
8 Brendan O'Hagan/Jonathan Pollock (Impreza)
9 Keith White/Martin Carey (Escort Mk1)
10 James Kennedy/Rebecca Kennedy (Escort Mk2)
Filed Under: Event news • NAMC