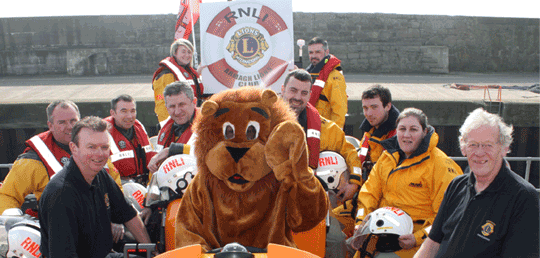 PRESS RELEASE
 Festival of Motorsport 2012 Date and Charity announced
The organisers of the Loughgall Festival of Motorsport & Country Lifestyle Fair 2012, are pleased to announce the charity for this year's event is RNLI Lifejackets for Lifesavers Appeal.
Now in its sixth successive year, the Festival which is jointly hosted by Armagh Lions Club and North Armagh Motor Club has raised £50,000 for local charities since its inception. This year's Festival is on Saturday 19th May having become an annual fixture in the glorious village of Loughgall – right at the core of the Orchard County.
Lions President Tanya Fowles said, "Following on the success of the previous years, we are aiming to provide £10,000 to RNLI which will go a considerable way in their Lifejackets for Lifesavers Appeal. As 2012 marks the centenary of the launch and tragic loss of Titanic, we decided to support the brave volunteers of RNLI who put their lives at risk to save others at sea. They are currently fund-raising to replace all their lifejackets with new state-of-the art versions and the figure required is estimated at £22,500."
Along with the now famous historic rally which sweeps through the majestic grounds of Loughgall Country Park, there is also the dynamic Auto-Test, and a vast static display of classic and vintage vehicles, which this year is promising to have some extra special exhibits on show.
Further to the tasty addition introduced last year, the Festival is building on the rural enterprise theme with a Classic Country Lifestyle Fair incorporating farm and local food produce from succulent savouries to delightful delicacies. There will also be trade stands with country clothing and equipment, agriculture, machinery, equestrian, outdoor pursuits and lots, lots more!
There'll be plenty to occupy the children, as well as an area set aside for a picnic in the park.
Tanya added, "It's going to be a great day in Loughgall and Armagh Lions wish to express their gratitude to our friends at North Armagh Motor Club, without whom the event simply cannot happen. They take the time from organising their other major annual events to run this Festival and it is through them, our sponsors and those who attend on the day we can aim to provide that all-important £10,000, to RNLI for new lifejackets."
RNLI Area Project Worker Sharon Pollock said; "There are two types of lifejackets – in shore and all weather. Both are designed for search and rescue, securing increased safety and fitted with a water activated emergency light and integral flare pockets for day or night distress flares There are also pockets for casualty case kits and various other equipment. This is an essential development for RNLI kit and all our crew members are looking forward to the benefits their new lifejackets will bring. On behalf of our dedicated volunteer crews, thank you for your consideration."
For further information contact 028 37527150; follow us on Flickr or email lionsclubarmagh@gmail.com
Photo Caption
Making waves onboard the Kilkeel Lifeboat with the RNLI crews from Kilkeel and Newcastle were Armagh Lions Isaac Beattie and Malcolm Dawson, with Dandy Lion at the helm. RNLI Lifejackets for Lifesavers Appeal is the chosen charity for Loughgall Festival of Motorsport & Classic County Lifestyle Fair 2012, organised by Armagh Lions Club and North Armagh Motor Club.
Filed Under: Event news • NAMC