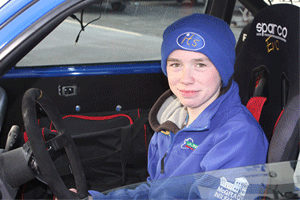 Junior Winner: 14-year-old Ben Crealey
(Image: Jonathan MacDonald) 14-year old Ben Crealey made history on Saturday, when he became the first ever winner of the McGrady Insurance Junior 1000 Rally Challenge Ireland in round one of this brand new series for 14 – 16 year olds – the Magic Bullet Stages – which took place at Kirkistown Racing Circuit. Kyle White and Rhys Bunting finished second and third respectively, with all seven of the youngsters successfully completing their first ever stage rally.
Even before the action began, at the pre-start drivers briefing series organisers announced that the end-of-season winner would will given a tour of the M-Sport Ford World Rally Team premises and have the chance to ride in one of the team's Fiesta WRC cars alongside either Jari-Matti Latvala or Petter Solberg. As none of the youngsters were previously aware of this, the smiles on their faces confirmed that this news went down well and that it is a prize worth winning.
The Junior section of the event comprised four of the main event's six stages and, following a storm earlier that morning, the surface of the track and the surrounding asphalt roads were drying quickly in the strong wind. First off the line was Adam Bustard and his co-driver Jason Harron in their Chevrolet Spark.
But as soon as they started knew something wasn't right and, following a frantic night's work changing their car's engine, the throttle cable had come loose. Although frustrated to have lost time, they were pleased to still have been fourth fastest through the stage.
Fastest out of the blocks was Crealey. In his Nissan Micra he and co-driver Liam Regan set a time that was an impressive 21.6 seconds ahead of their closets rivals.
White and Alan Purdy in their Peugeot 107 were second fastest – a great effort considering the OK board had fallen from its location on the roof and caused White to be distracted for a few seconds. This made it close, as they were only 1.3 seconds ahead of third-placed Bunting in his Citroen C1, who had Andy Bushe next to him calling the corners – and in a loud voice when the intercom failed during SS1.
With Bustard/Harron fourth, Connor Woods and Niall McGrath were fifth, but all was not well with their Nissan Micra and, although their crew tried to improve things, the 14-year old from Derrygonnelly would have to save his best for the next round. In sixth and seventh after the first stage was Eoghan Bogue/Andrew Richie and James Partridge/Phil Cherry – both in Nissan Micras – and both admitting to be taking things cautiously to begin with.
As it turned-out, the performances on the first stage set the scene for the rest of the day and Crealey went on to win the next two stages, albeit by a much-reduced margin. But on the fourth stage it was White who set the pace and stopped the clocks 7.3 seconds ahead of anyone else.
However, Crealey had done enough to take a well-deserved victory and, after a calculated drive through the final stage with no mistakes, he and Regan booked into the last control 33.2 seconds ahead of White, with Bunting third a further 20.9 seconds back. Bustard had done well to overcome the irregular delivery of power throughout the day to finish fourth, whilst one of the most impressive performances came from Bogue, who had never driven a car until a few weeks ago until he became involved with the Junior 1000 series and was therefore pleased to finish fifth.
Woods was frustrated that, due to his car issues, he could not show his true potential and ended his day in sixth, whilst Partridge was pleased to have made it to the finish after clipping a few tyres and straw bales – as did most of the drivers at some point during the day.
At the finish an absolutely delighted Ben Crealey said:
"I can't believe I've just won. I'll be on cloud nine for weeks now. I really enjoyed it and I can't wait for the next round."
Co-driver Liam Regan said:
"Ben drove brilliantly all day and never put a wheel wrong. He certainly deserves his victory."
The second round of the series takes place at Bishopscourt on 17th March and, as it's St Patrick's day, whoever wins on this occasion is likely to be celebrating more than ever – but only with soft drinks of course!
The 2012 McGrady Insurance Junior 1000 Rally Challenge Ireland is supported by Yokohama tyres and SuperDrive Motorsports Centre.
Filed Under: Event news • NAMC