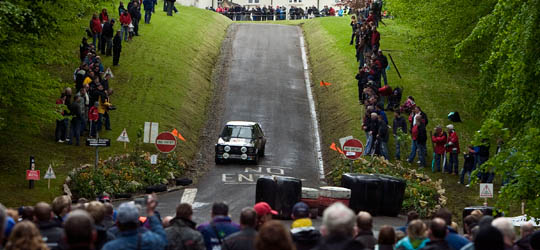 DOWNLOAD – REGULATIONS AND ENTRY FORM
Plans are already well advanced for the 2010 Loughgall Festival of Motorsport, which will be held in aid of charity on Saturday 3 July.
This year's festival, which will be located within the confines of the beautiful Loughgall Country Park, will again be sponsored by Burkes of Cornascriebe New Holland Agriculture, and supported by Armagh City and District Council.
"I'm delighted to once again be involved with this year's event," said Harry Burke, director of Burkes of Cornascriebe. "Last year's Festival was a massive success and I'm pleased to be able to support such a high profile event once more."
The Festival, which is jointly organised by North Armagh Motor Club Ltd and Armagh Lions Club, will feature a Historic Rally Car Challenge, Apple Blossom Autotest, static displays of vintage and classic cars, as well as an autojumble.
Now in its fifth year, the festivities will again be a huge hit with spectators, and it is all in aid of Action Cancer UK (Northern Ireland) and other Lions charities.
Armagh Lions Club member Malcolm Dawson said: "The Club is very grateful to all of the event sponsors but in particular North Armagh Motor Club. Without their support and expertise over the years, we would not have been able to support the many good causes that we have. Indeed, thanks to the success of last year's event, we were able to donate £10,000 to Macmillan Cancer Support."
There will be four main themes to this year's festival, with the Historic Rally Car Challenge, Apple Blossom Autotest, static displays and autojumble.
The rally will consist of eight all tarmac special stages, and there will be the added bonus of a cavalcade run through the stage by special historic rally cars and classic vintage vehicles during the midday break.
Meanwhile, the Apple Blossom Autotest, which is being organised in conjunction with MG Car Club Ltd (Ulster), will run independently of the rally. It will feature mostly classic cars and will involve some spectacular precision driving.
Clerk of the Course, William Fullerton, said: "Every year, the success of the Festival of Motorsport depends upon the co-operation between a large number of volunteers and organisations."
"I'd like to take this opportunity to once again thank Armagh City and District Council, as well as the Department of Agriculture, for the use of Loughgall Manor Estate and Loughgall Country Park," Fullerton continued. "Without their continual support through providing such a wonderful venue, an event of this calibre would simply not be possible."
The event provides a perfect opportunity for a family outing, with entertainment for all ages guaranteed. Free car parking will be in operation during the day.
An admission fee of £10 will be payable at the entrance gates, which open at 8.30am on Saturday 3 July.
The Historic Rally Car Challenge will start at 9.30am and all proceedings will be completed by 5.30pm, when the prize-giving will take place in the centre arena.
DOWNLOAD – REGULATIONS AND ENTRY FORM
Filed Under: Event news • NAMC